Michigan is a ruggedly beautiful state. From the stunning 3,288-mile coastline to the Upper Peninsula forests, low rolling hills, over 11,000 lakes, and the unique mitten shape, the Great Lakes State has it all.
Due to its pure, natural landscape, MI is a paradise for wildlife and birds. If you're a birder, you'll love this state. Over 450 bird species regard Michigan as home. Among them, you'll find birds of prey in Michigan. But do you know which birds of prey patrol MI's sky?
Short-eared Owl – Asio flammeus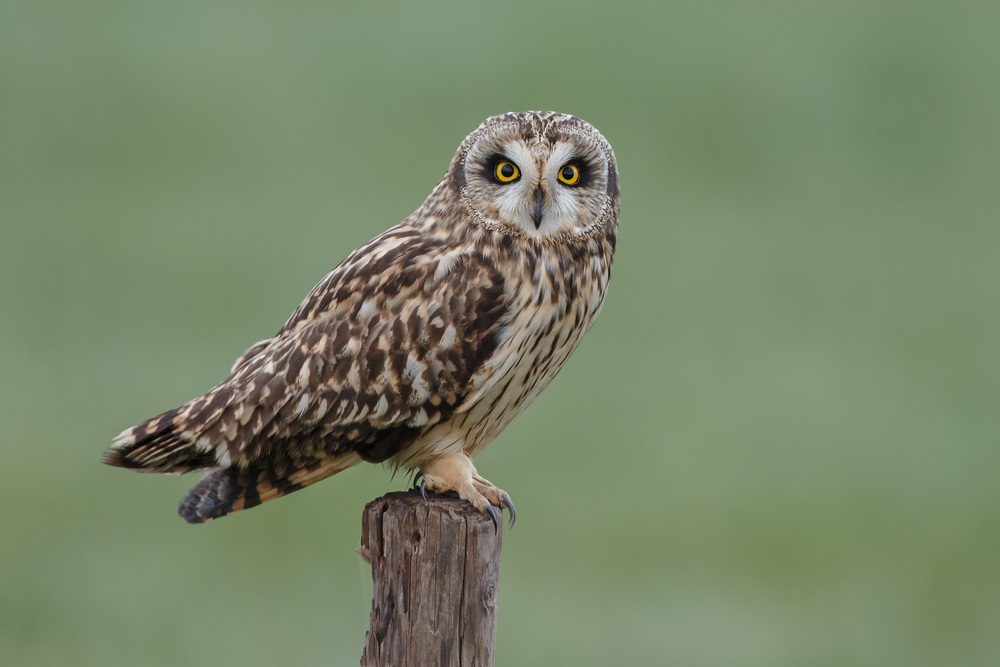 These birds of prey have short ears that are not always visible, giving them the name, Short-Eared Owls. They're common in southern Michigan, where you can spot them in open grasslands and fields at dawn or dusk.
Coloration
The short-eared owl has short tails and long wings with a heavily streaked breast and pale belly. You can see pale wing patches near the end of their upper wings when in flight.
Diet
Since short-eared owls are carnivores, they mostly eat rodents but can also feed on small mammals like mice, rats, bats, and moles.
Habitat
These birds love large open areas, including:
Grasslands
Open agricultural fields
Prairie
Arctic tundra
Mountain meadows
Size
Short-eared owls measure about 13–17 inches in length and 34–40 inches in wingspan.
Snowy Owl – Bubo scandiacus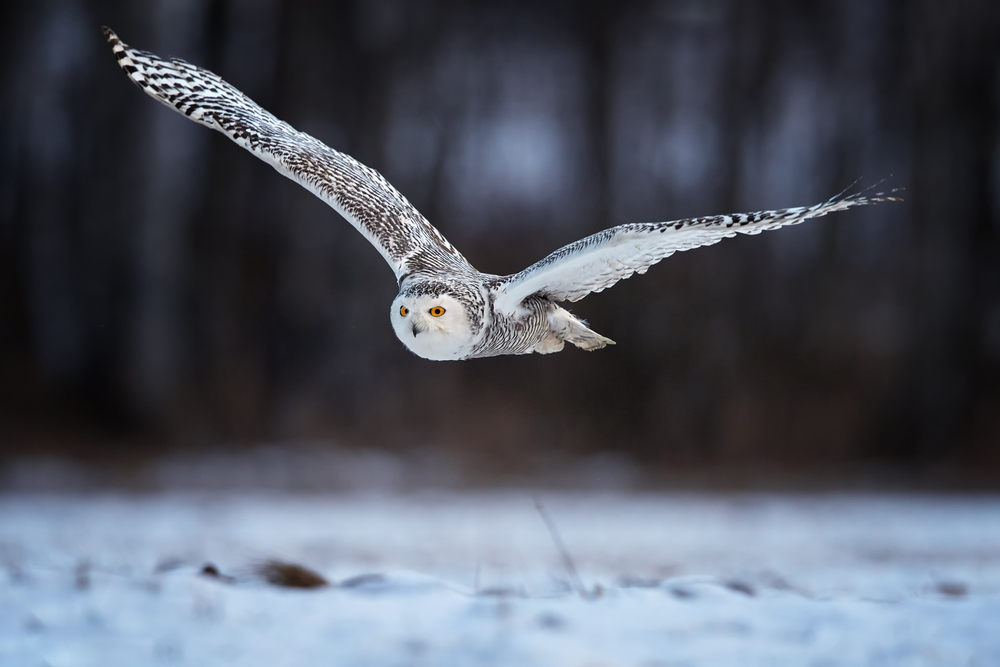 As the name snowy suggests, snowy owls have white plumage making them stand out. You can find them all over Michigan, and it's easy to spot them, especially during the winter months when migrating to the south.
Coloration
Snowy owls have white plumage with brown or black markings on the wings and bodies. Their eyes are usually yellow-colored.
Diet
They feed mainly on small rodents such as voles and lemmings and will eat them in plenty each day to survive.
Habitat
These birds live in open areas with only a few trees. So you'll mostly find them in the Arctic tundra.
Size
Snowy owls are 20.5-27.9 inches in length with a 49.6-57.1 inches wingspan.
Great Horned Owl- Bubo virginianus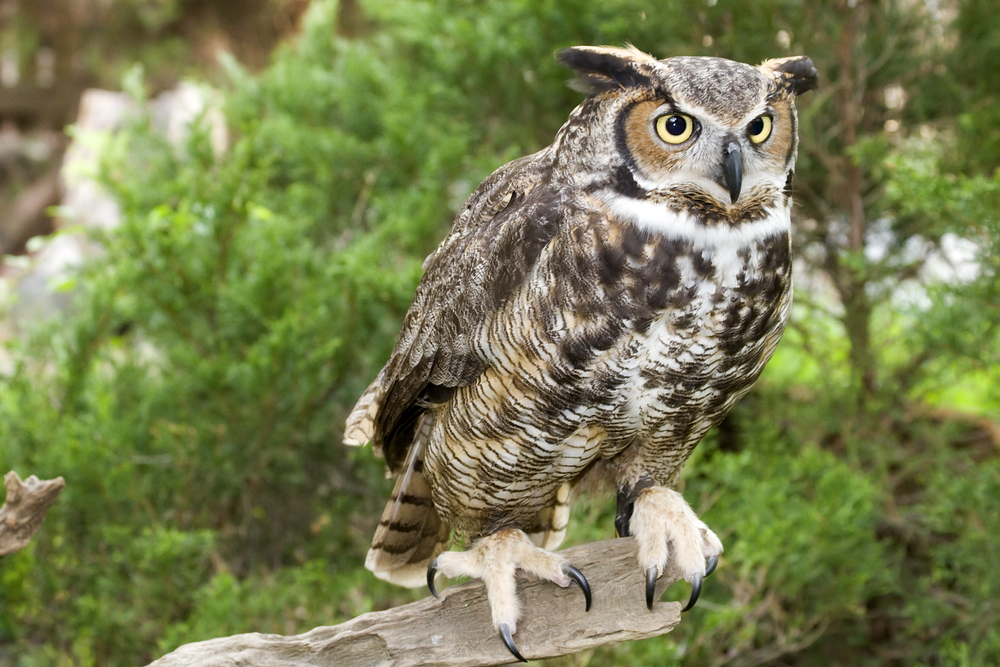 Great horned owls are the largest owls living in Michigan's southwest parts. It's not easy seeing them, but you'll hear great horned owls hoot to announce their presence. Their large ear tufts look like horns, hence their name.
Coloration
These birds are mottled gray-brown. Their faces have a reddish-brown color with a tidy white patch on their throats.
Diet
Their diet consists mainly of mammals and other small animals. They will eat:
Mice
Rabbits
Squirrels
Snakes
Frogs
Insects
Birds like ducks
Habitat
Great horned owls live mainly in open woodlands but may adapt well to other environments such as deserts, evergreens, swamps, deciduous forests, and tundra.
Size
They measure 17 to 25 inches in length with wingspans that can reach up to 4.6 feet.
Barred Owl – Strix varias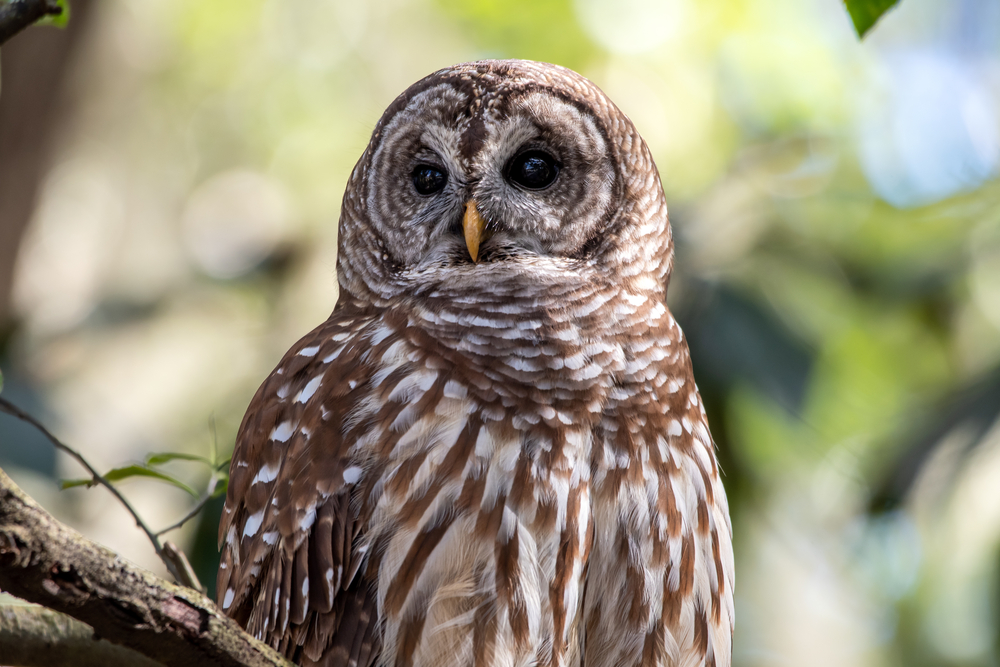 Found throughout Michigan, barred owls are sometimes active during the day. Their call is quite distinctive, which sounds as if they're asking, "Who will cook for you?"
Coloration
Barred owls are mottled-brown and white with dark brown eyes. Their backs, tails, and wings are barred white and brown, running horizontally.
Diet
Barred owls mostly eat mice, lizards, snakes, frogs, and squirrels.
Habitat
These birds of prey prefer large evergreen or deciduous forests. You'll see them nesting in tree cavities.
Size
Their length lies between 16.9-19.7 inches, while they weigh about 17 to 37 lbs. These birds have a wingspan of 39.0-43.3 inches.
Eastern Screech Owl – Megascops asio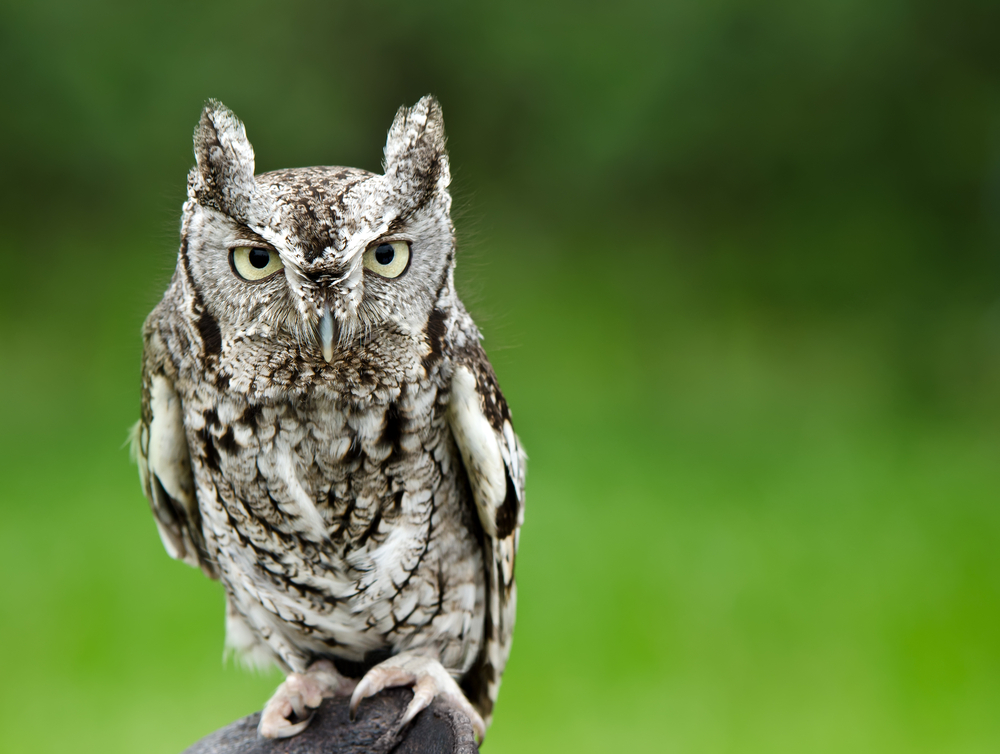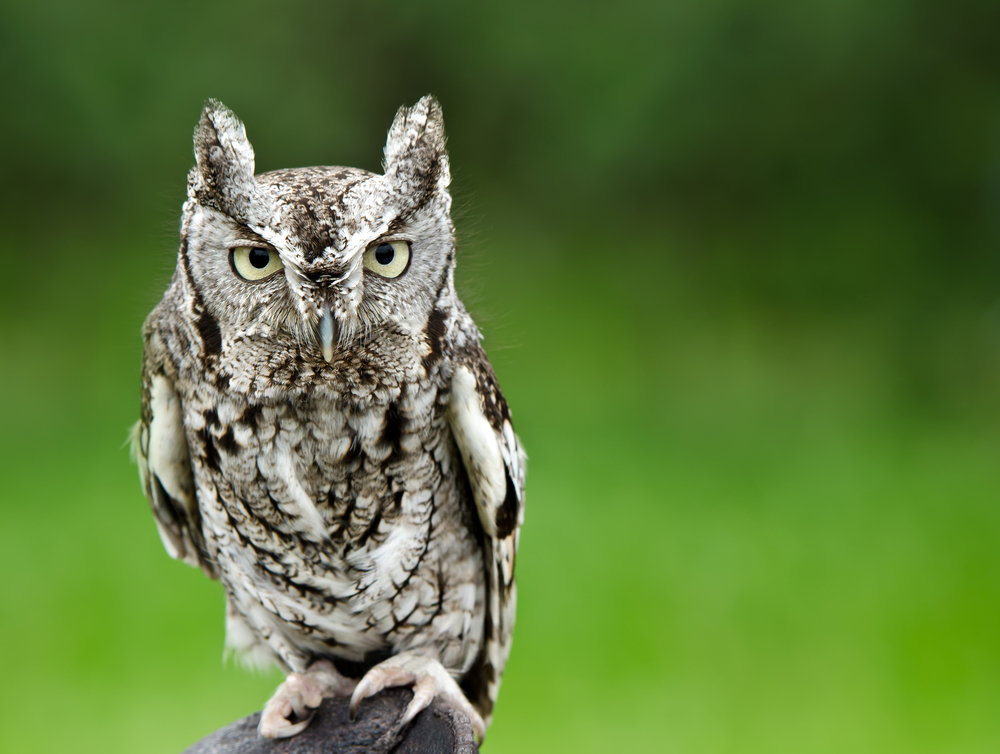 These are year-round raptors in Michigan, living in wooded areas. You'll find them in busy locations, including roadsides and inside buildings, as they adapt well to the presence of humans.
Coloration
They are gray with breasts and bellies heavily streaked with black spotting. Their eyes are yellow and beak light.
Diet
The meals of Eastern Screech owls consist:
Crayfish
Earthworms
Insects
Songbirds
Amphibians
Small mammals
Habitat
The Eastern Screech owls live in forests, mainly in woodlands with open fields, clearings, and meadows, hunting nocturnally from a perch.
Size
They measure 6.3– 9.8 inches in length and weigh 4.2–8.6 pounds with an 18–24 inches wingspan.
The American Barn Owl – Tyto alba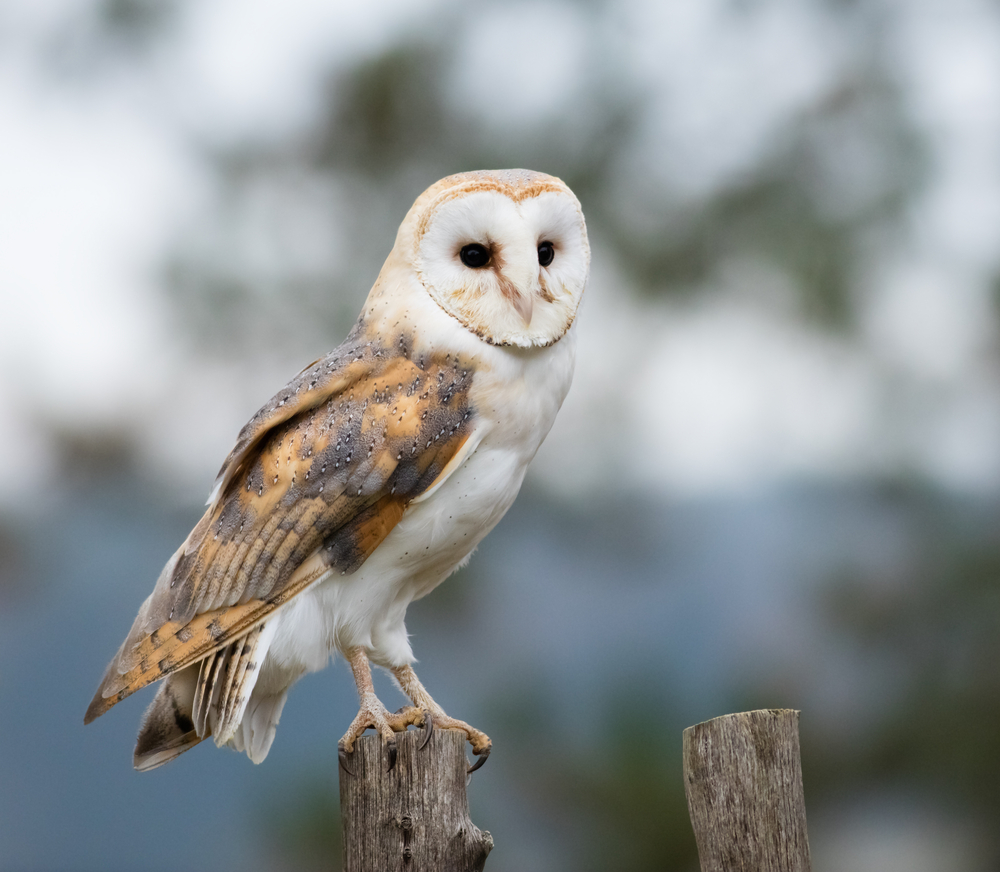 This owl has a heart-shaped phase and can live up to 25 years in captivity. It has different names, including the death/demon owl.
Coloration
Their upperparts appear rusty brown with several dark patches, while the underparts and entire face color range from cream to white.
Diet
They mainly feed on voles but can also eat lizards, amphibians, insects, bats, and other birds.
Habitat
Barn owls prefer open countrysides, nesting in old buildings and barns. Their habitats include open woodlands, woodland edges, grasslands, and farmlands.
Size
American barn owls weigh between 8 to 25 pounds with a wingspan of 31 to 37 inches. They measure between 13 to 15 inches in length.
American Kestrel – Falco sparverius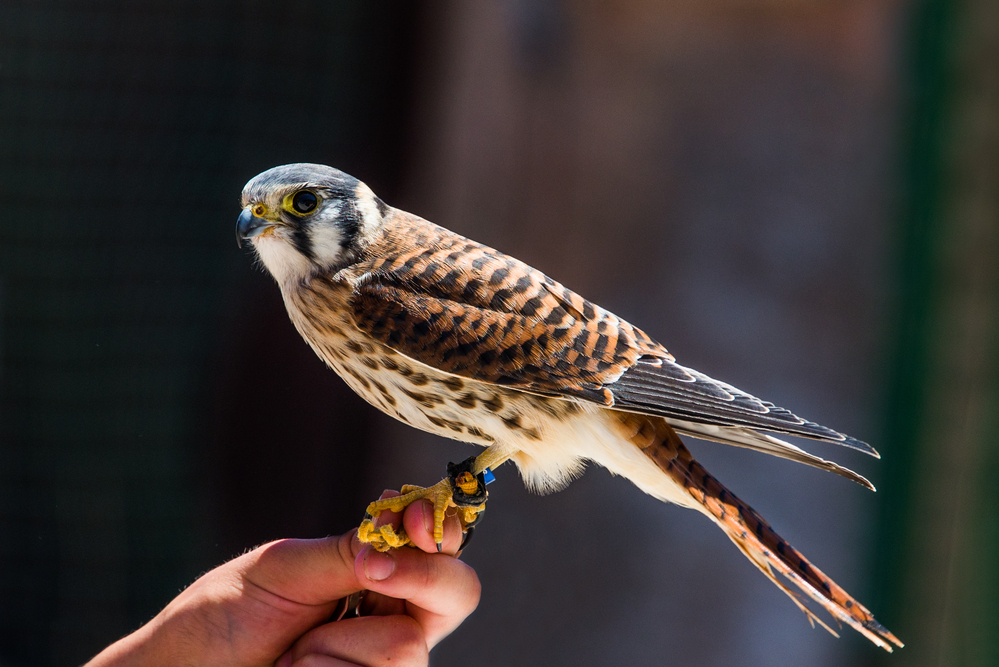 The American kestrel is the smallest falcon in North America. Males and females have different markings on their bodies, making them quite colorful.
Coloration
Females have reddish-brown wings, backs, and tails, while males have slate-blue heads and wings but rusty-red coloration on their backs and tails. The young ones resemble female adults.
Diet
In summer, these birds of prey in Michigan eat insects but will hunt for small birds, frogs, voles, mice, and snakes during the winter season. While in urban areas, they eat amphibians, birds, mammals, and reptiles.
Habitat
These falcons can live in most habitats, including deserts, mountains, tropical lowlands, and cities.
Size
These Michigan birds of prey are about 9 to 12 inches in length, weigh between 2.8 and 5.8 pounds, with 20 to 24 inches wingspan.
Peregrine Falcon – Falco peregrinus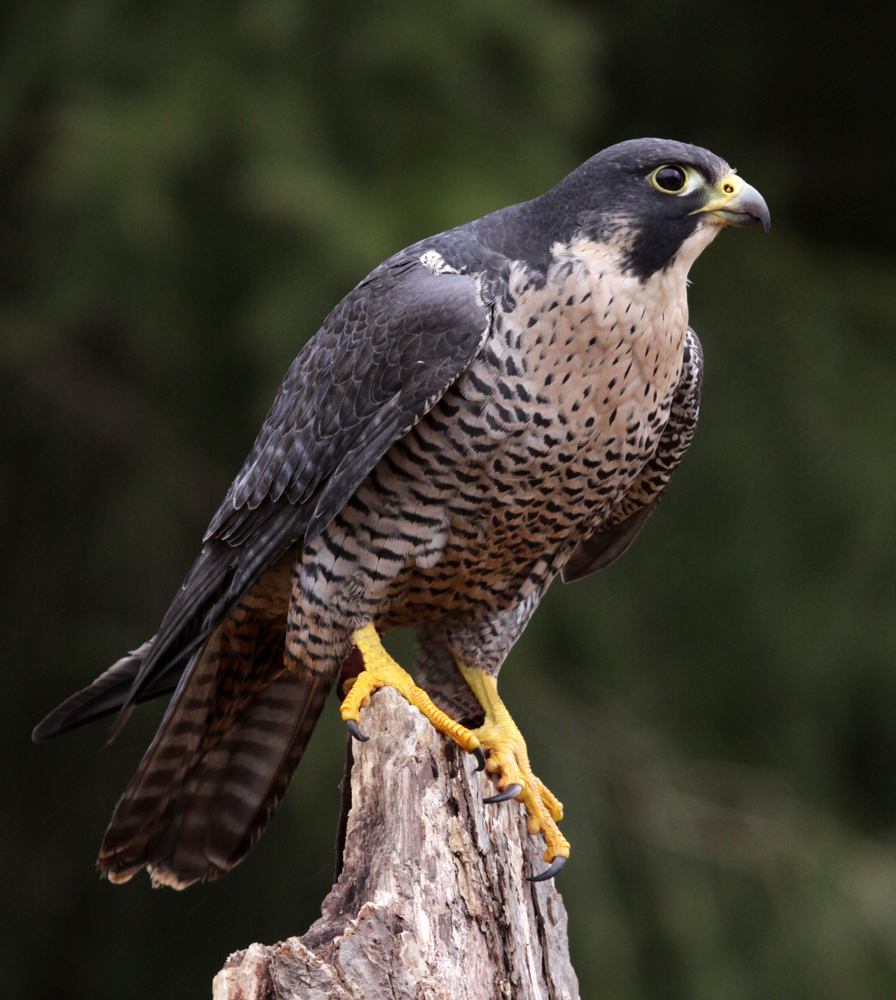 Peregrine Falcon is the fastest bird alive, residing all over Michigan. They love nesting on the sides of tall buildings, making them quite popular in the cities.
Coloration
The adult Peregrine Falcon has a slate/gray back, white cheek patch, and white breast. They also have a black cap and dark heavy sides.
Diet
These falcons eat other birds without picking the exact species. Their prey includes songbirds, waterfowl, pigeons, grouse, and doves.
Habitat
They nest on cliff faces and in the Michigan cities feeding on the city birds.
Size
The Peregrine Falcon is a large falcon species having a wingspan of 41 inches. It measures about 13-23 inches and weighs 12-53 lbs.
Osprey – Pandion haliaetus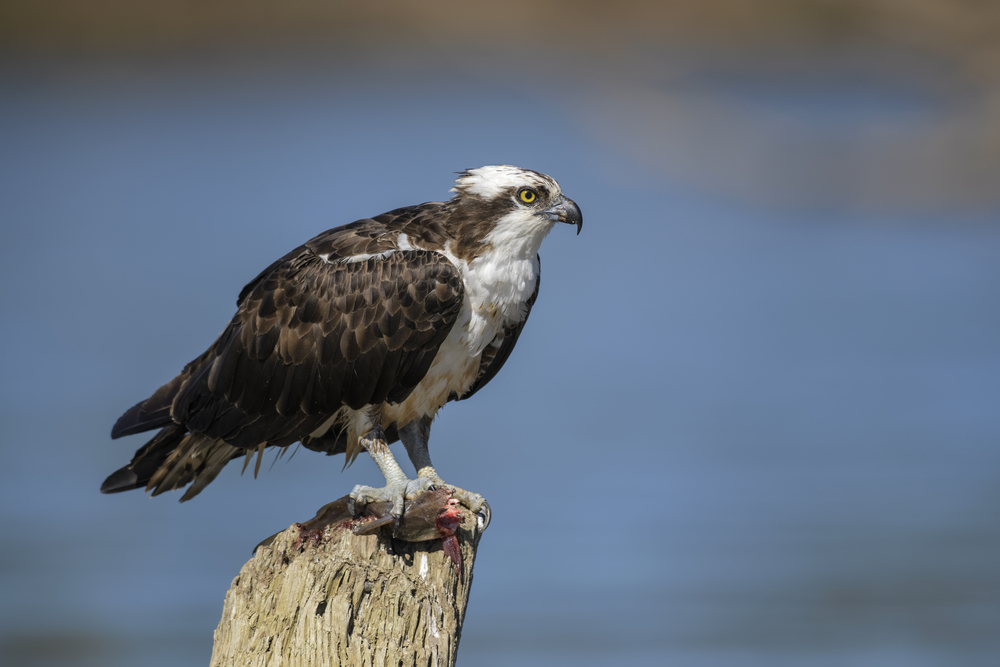 Ospreys belong to their own family called Pandionidae. They are common in Michigan and its neighboring states but will migrate to the southern part in winter.
Coloration
Ospreys' upperparts are dark brown while their underparts are white. Their heads are usually white, but their eyes are red. You'll spot the dark wrist patches under their wings in flight.
Diet
Nicknamed Fish/Sea Hawks, Ospreys primarily feed on fish. When they can't find fish, these birds will eat small mammals and reptiles.
Habitat
Ospreys love to nest and breed in areas near water, especially near the Great Lakes in Michigan.
Size
Ospreys are large, measuring between 22 and 25 inches, with a 59-71 inches wingspan.
American Bald Eagle – Haliaeetus leucocephalus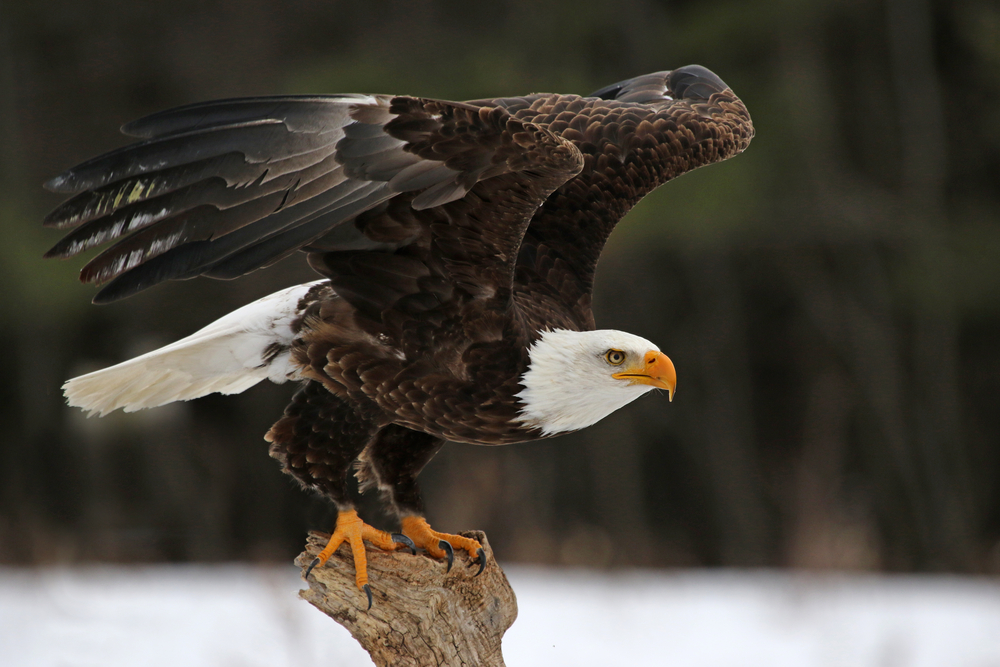 Since 1782, the American Bald Eagle has been the national bird of the United States. Thanks to the white patch covering its entire face, you can quickly identify this bird.
Coloration
An adult American bald eagle has a white head/tail with a solid brown body and a yellow curved bill. Immature ones are brown with spotted white patches on their tails and underside.
Diet
They eat fish that swim close to the surface but will also feed on small mammals, wading birds, and waterfowl.
Habitat
Since they mainly feed on fish, they like to hang around water bodies. You'll find them near rivers, lakes, coastlines, and wet prairies.
Size
They measure 28-40 inches in length and 71-91 inches wingspan.
Golden Eagle – Aquila chrysaetos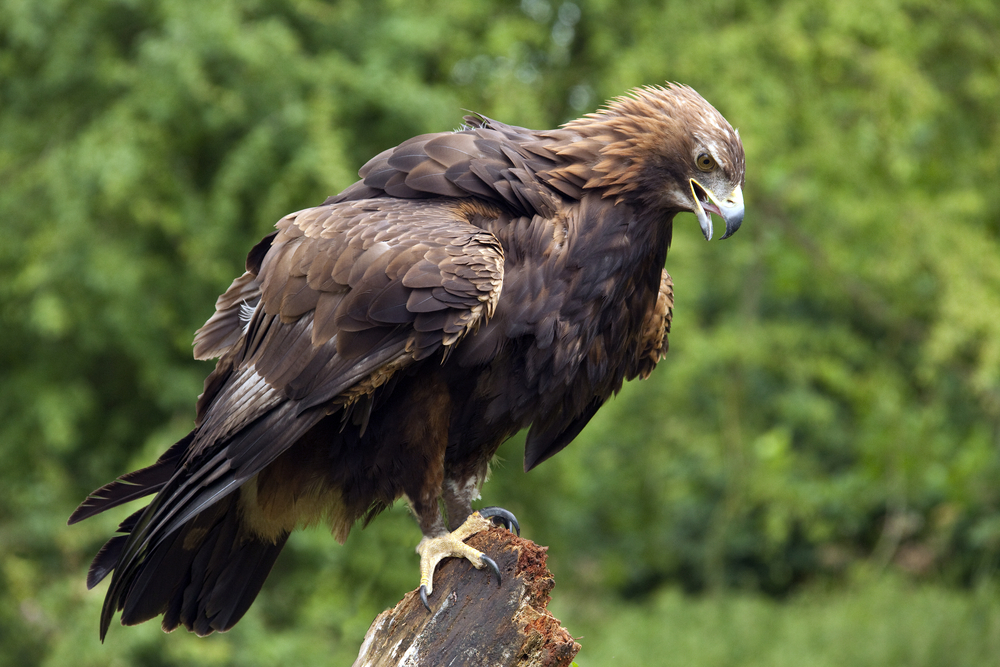 Like the Bald Eagle, the Golden Eagle is a common bird in Michigan. They are big and tough birds that live up to 30 years.
Coloration
Golden Eagles have golden-brown plumage around their heads while the rest of their bodies are brown. It's this unique coloration pattern that makes them easy to identify.
Diet
Golden Eagles mainly feed on small mammals and medium-sized birds.
Habitat
They love hunting near hills and mountains but can also live in different types of habitats, including deserts and farmland.
Size
Golden eagles are large birds of prey, measuring about 27.6 to 33.1 inches and 72.8 to 86.6 inches in the wingspan range.
Crested Caracara – Caracara plancus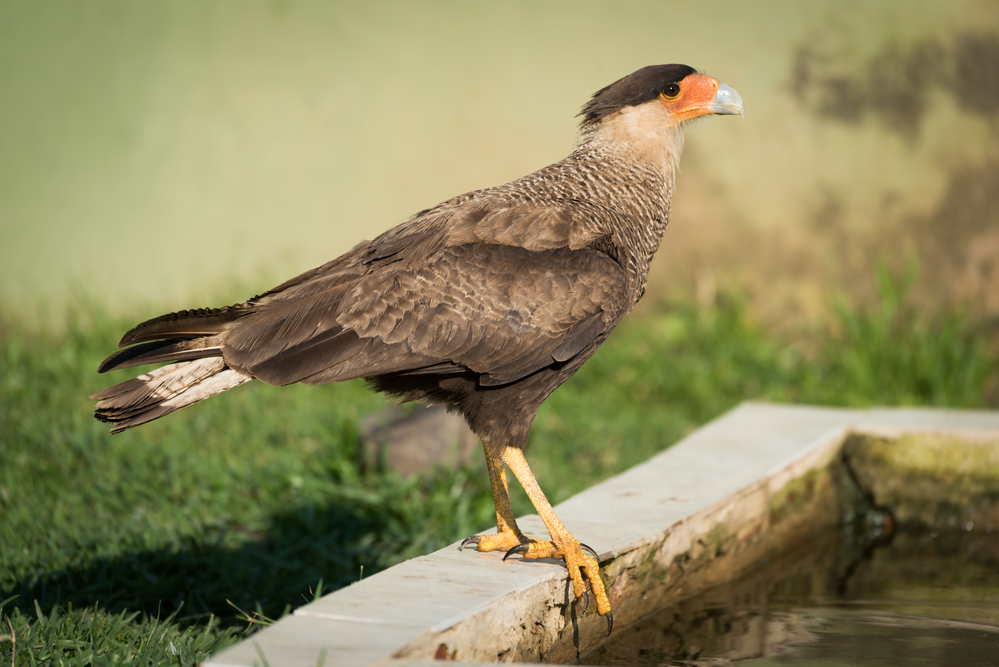 Crested Caracaras are solitary birds that only communicate with others during mating seasons. The birds are common in Michigan during the summer.
Coloration
You can quickly identify Crested Caracaras using their heavy bills and white necks. Dark feathers cover the other body parts.
Diet
These birds mainly feed on carrion but can sometimes eat live prey, such as amphibians, fish, reptiles, and small mammals.
Habitat
Crested caracaras love open wooded areas like farmlands, golf courses, and grasslands. You'll spot them nesting on tall trees.
Size
These falcon species weigh between 1050 to 1300 grams and have a wingspan of 125cm.
Turkey Vulture – Cathartes aura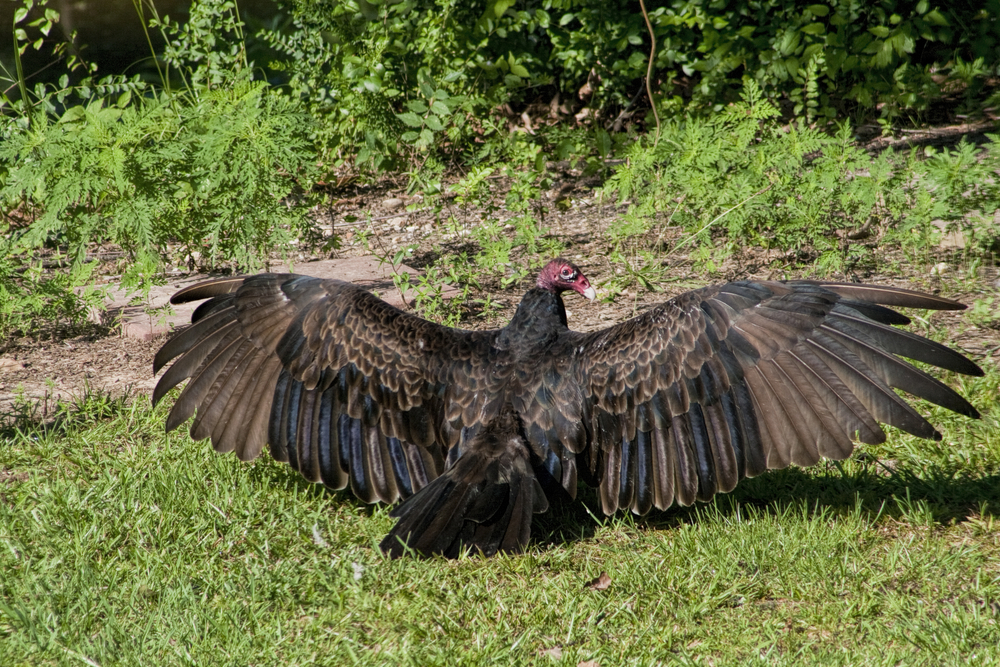 These vulture species are prevalent in Michigan during the warmer months but will migrate to the south once winter knocks. Turkey vultures can live up to 10 years in the wild and 20 years in captivity.
Coloration
These Michigan birds of prey are easy to identify, thanks to their bald red heads and black feathers covering the rest of their bodies. Their bills are pinkish.
Diet
Their diet is mainly carrion, which they can smell from miles away thanks to their large nostrils.
Habitat
They will be soaring the skies of open countrysides, deserts, foothills, and woods, hunting for their prey.
Size
These birds can grow to about 25-32 inches in length, weighing up to 3 pounds. Their wingspans can reach nearly six feet.
Black Vulture – Coragyps atratus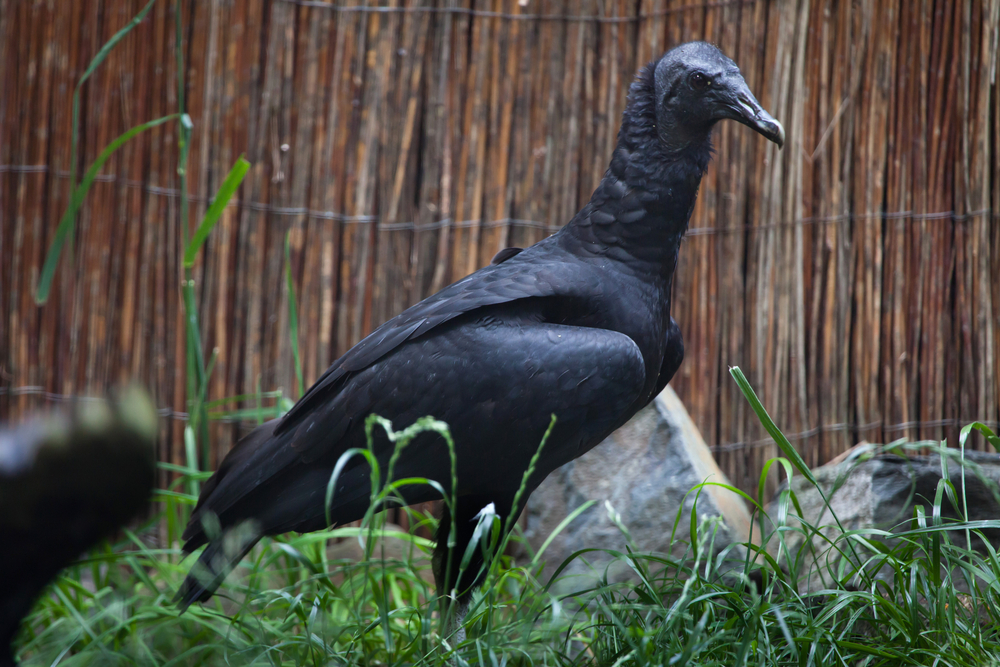 Black vultures aren't as common in Michigan as Turkey vultures. A few of them hang around Turkey vultures to take advantage of their smelling prowess for food.
Coloration
Black vultures' heads are bald with black skin, and the rest of their bodies are covered in black feathers.
Diet
Black vultures feed on carrion as their main diet but won't hesitate to kill other animals to eat fresh meat.
Habitat
They soar open areas such as fields and roadsides to look for food but only nest in dense forests.
Size
These birds can grow to about 22-29 inches with a wingspan of between 51-66 inches.
Red-tailed Hawk – Buteo jamaicensis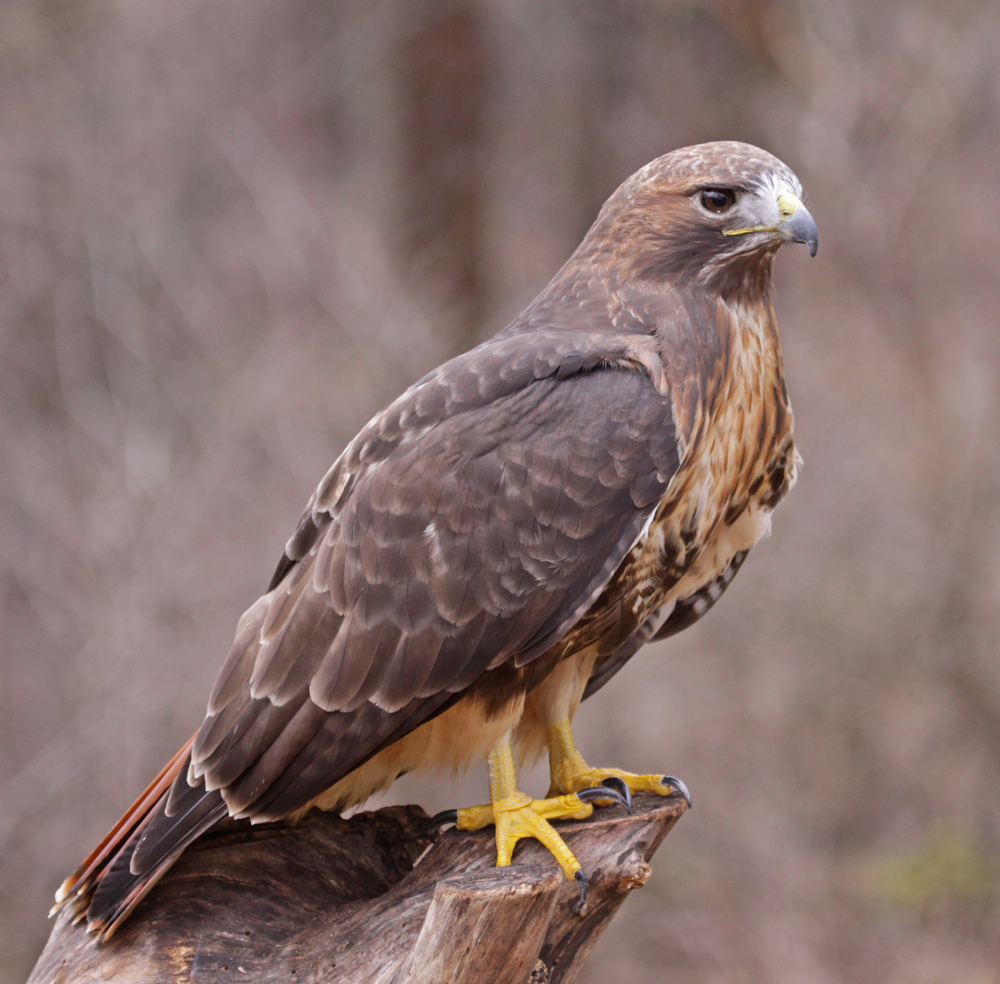 Red-tailed hawks live in the southern half of Michigan year-round but travel to the northern part to breed. Among all the hawk species residing in the state, they're the most common, easily identifiable by their signature red tails.
Coloration
Red-tailed hawks have rich brown color above but are pale brown below. Their bellies are streaked, and on their wing's underside, you'll see a dark bar between their shoulder and wrist. The color above their tails is usually cinnamon-red but brown when they're still young.
Diet
This hawk eats rodents, snakes, and other birds. It hunts along highways, catching prey whenever they get distracted by traffic.
Habitat
Red-tailed hawks are generally open country birds. They roam in the fields and rest on trees, telephone poles, and posts.
Size
These hawks measure between 17.7-25.6 inches in length, 1.5-3.5 lbs., and have an enormous 44.9-52.4 inches wingspan.
Rough-legged Hawk – Buteo lagopus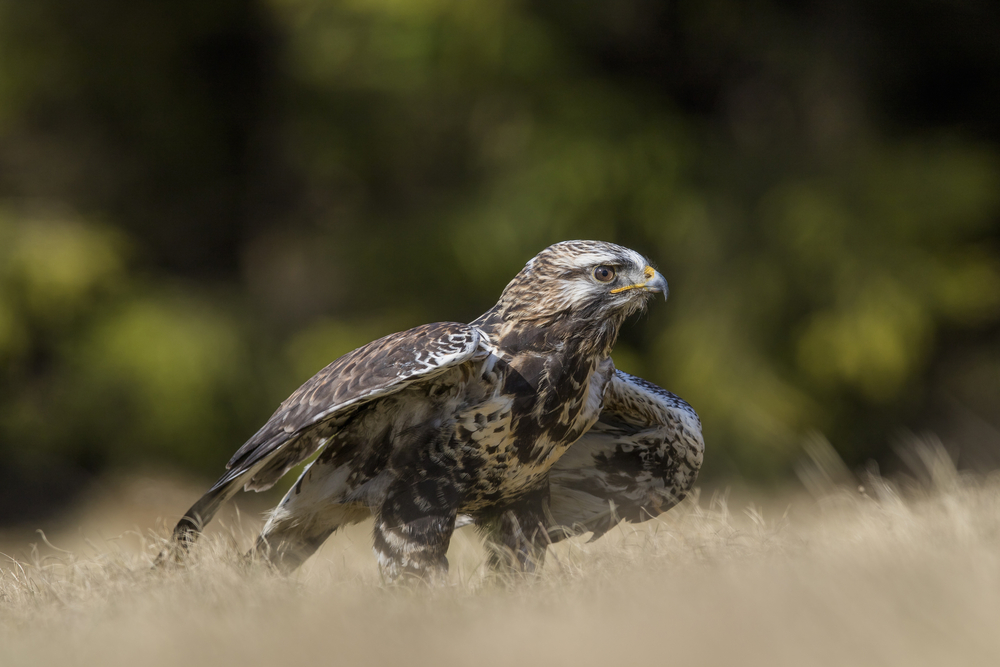 The Rough-Legged Hawk is a migratory raptor, only appearing in Michigan during the winter while migrating to the south. These hawks got their name from their legs' feathering pattern, which helps conserve heat they'll need when breeding in the arctic tundra.
Coloration
Rough-legged hawks have two color morphs: the dark and the light morph. The light morph has a heavily streaked chest, a dark belly, and a dark wrist patch on the underside wings.
The dark morphs have both chest and belly dark but no wrist patch, but their wing linings are dark. The upper-side wing of both birds is dark, but the light morphs have some light spotting. This bird's tail is dark.
Diet
Rough-legged hawks feed primarily on rodents. They occasionally feed on lemmings, insects, other birds, frogs, mice, squirrels, and voles.
Habitat
These birds spend their winter hunting in open areas, including grasslands and coastal prairies. They breed in the arctic, mainly in the tundra regions.
Size
They measure between 18 to 24 inches in length, weigh between 1.5 and 3.5 lbs., and have a wingspan of between 46 to 54 inches.
Broad-winged Hawk – Buteo platypterus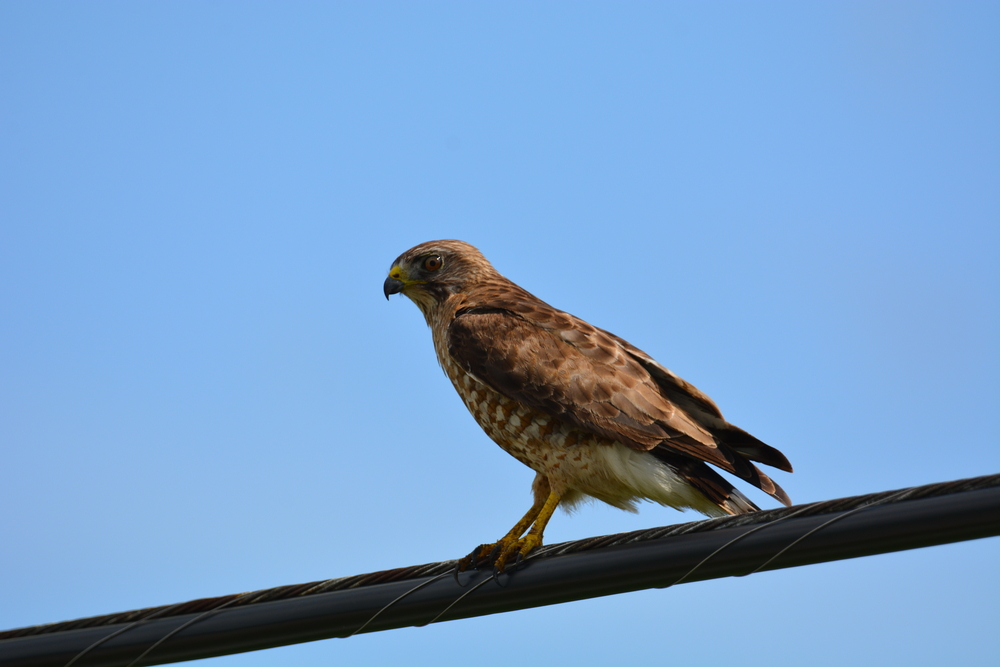 The broad-winged hawk is the smallest hawk species found in Michigan. Although they're common in the state, they spend most of their time in the forest away from humans. Spot them around the Great Lakes during migrations in fall as they migrate in groups to South America.
Coloration
The backs of these hawks are dark brown, while their breasts and belly appear light brown. The underneath of the adult broad-winged hawks is a reddish barring running horizontally but vertically in juveniles. The adult tail appears brown to gray and has white stripes.
Diet
Besides mammals such as voles and chipmunks, Broad-winged Hawks eat nestling birds, insects, frogs, and lizards.
Habitat
These Michigan birds of prey spend most of their time in the forests. They ascend along the mountains and coastlines in groups during migrations.
Size
Broad-winged hawks are small, measuring between 13 to 18 inches. They weigh 9.3 – 19.8 lbs. and have a wingspan of 32 to 39 inches.
Red-shouldered Hawk – Buteo lineatus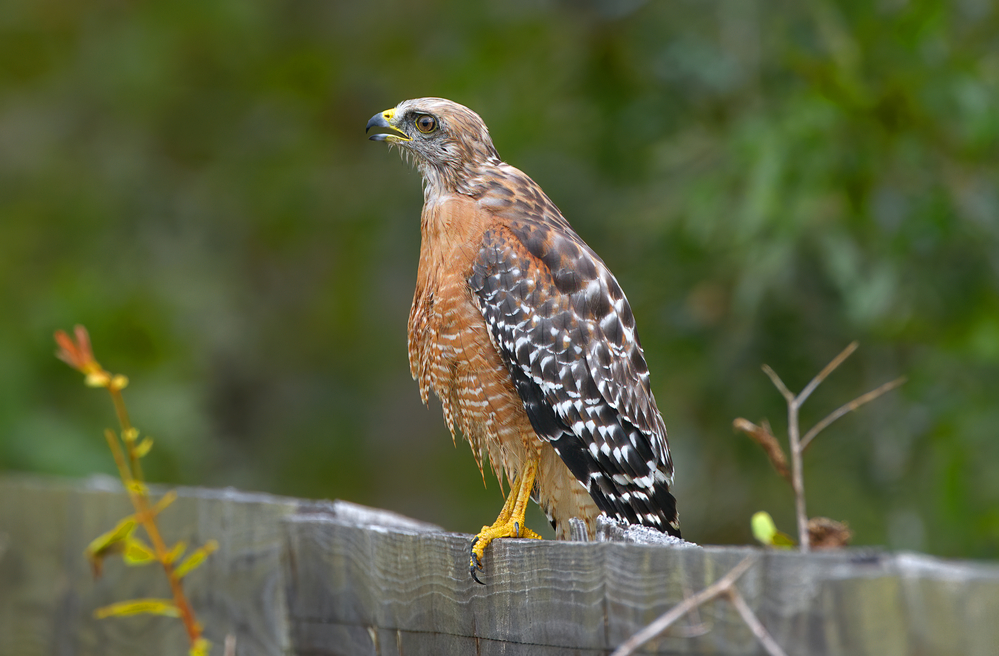 Red-shouldered Hawks are prevalent in southern MI but move to the north to breed.
Coloration
As its name indicates, this hawk has a distinct red shoulder. Adults have a reddish coloration on their underparts and wing linings, while their tails have white bands. While in flight, they show crescent-shaped translucent patches bordering their wing feathers.
Diet
Red-shouldered Hawks feed on small mammals, reptiles, and amphibians, always taking their prey by surprise after watching them from above.
Habitat
Red-shouldered hawks prefer hunting and nesting in dense Michigan forests.
Size
The birds measure between 17 to 24 inches in length and weigh from 1 to 1.5 pounds. Their wingspans range from 35 to 50 inches.
Cooper's Hawk – Accipiter cooperii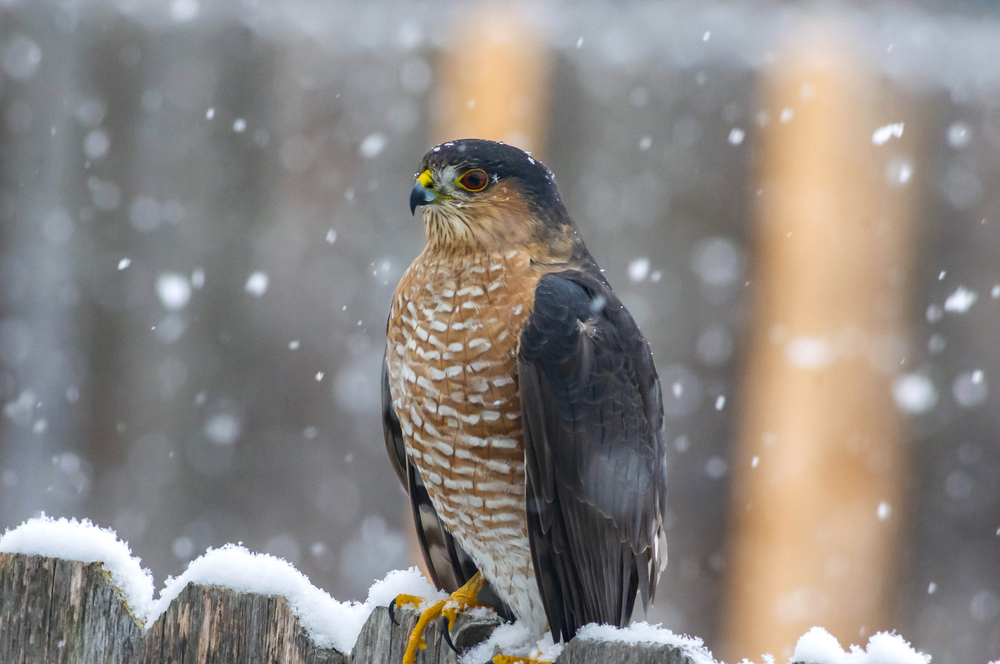 Revered for their excellent flying agility, Cooper's hawks reside in the southern part of Michigan but breed in the north.
Coloration
Cooper's hawk is one of the prettiest birds of prey in Michigan. Its back and wings are bluish-black, but the eyes are red, and they have rounded tails.
Diet
These hawks are generally bird hunters, feeding on doves, woodpeckers, and quails. They sometimes eat frogs, bats, snakes, and squirrels.
Habitat
Cooper's hawks love forested and wooded areas. You'll also see them in leafy backyards and subdivisions, quickly sneaking and catching their prey.
Size
These birds are about 15 to 18 inches long, weighing between 8 to 24 pounds, with a 24 to 35 inches wingspan.
Sharp-shinned Hawk – Accipiter striatus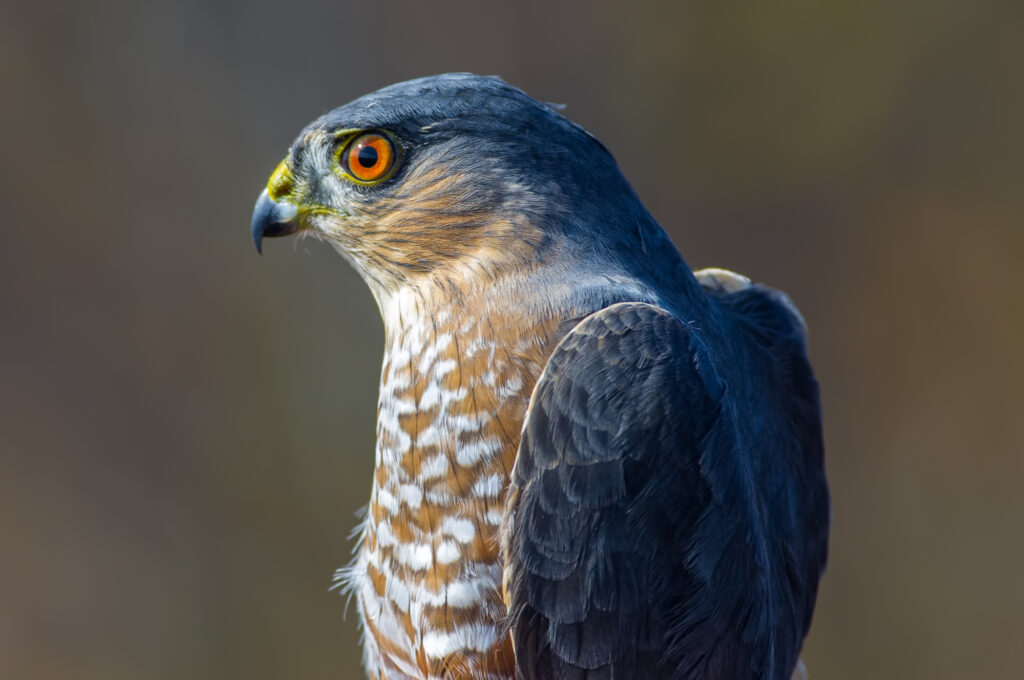 The Sharp-Shinned Hawk is a small bird of prey found all over Michigan. It's easily identifiable thanks to its unique flying style, flap, and glide.
Coloration
These birds have orange bars on the upper chest and a fading orange coloration on the belly. Their wings and back have bluish-gray coloration.
Diet
They feed on mammals and small birds, especially the songbirds.
Habitat
When breeding, they spend time in deep forests but will hang around high in the sky or in open habitats during the migration period.
Size
Both sexes measure 9.4-13.4 inches and weigh 3-8 pounds. Their wingspan is between 17 to 22 inches.
Final Thoughts
Birds of prey in Michigan come in various shapes, sizes, and colorations. While others have adapted well to the presence of humans, some birds are still secretive and prefer staying in dense forests, away from people.